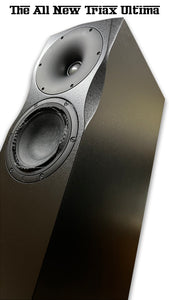 Simplicity Re-Defined - A New Era of High Fidelity Audio Awaits
Out of the Box, you get the Ultimate in HD Audio.
XLR, RCA, USB, Optical, SPDIF....All capable!
Harness 1100 Watts of Hypex Fusion Power Per Speaker, with Integrated DSP BUILT IN!!! (Fully Active Design)

Integrated Bracing & Damping - Painstakingly developed and tested - Eliminating driver/enclosure resonance issues

Beryllium Wave Guide Satori Tweeter
6.5" Purifi Long-stroke Midrange w/ Ultra Low Harmonic and Intermodulation Distortion
Powered 12" Long-stroke Subwoofer


Click Here for more details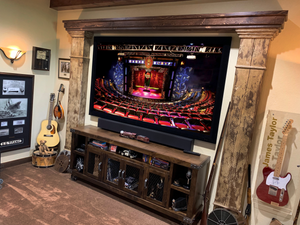 THE LCR - Our take on the "Soundbar" concept
Q: Where can I put my speakers?!
A: Mounted to the wall right under your TV saving you crucial space while not sacrificing sound quality. With built in mounting slots making installation a breeze, If you have to go wall mount then this is your "Wall Mount Hi-Fi"!
Q: BUT, I've heard soundbars and they always seem to lack sound quality and vocal clarity.... What makes these different?
A: This has your Front Left, Center and Right channels all in one unit. With 2) 4" Drivers, 1) 1" Dome tweeter, and a carefully crafted  4'th order Linkwitz-Riley crossover per channel; we have R&D'd this through computer testing and real life situations to be a one stop fits all solution. 
Q: Am I limited on the amplification of the unit.
A: Not at all. With one centrally located terminal accessing all (3) passive crossover networks, you can run your front channel speakers on your choice of class amplifier.
Testimonials
02/28/2018, 07:09 PM

"I'm very sorry to hear about Toby. I've been away from the site for a while. He was always so friendly and helpful to me. Sometimes we just sat and listened to music. I have a pair of black-lacquer towers dating back to 1986. I found Toby when the cones dried out and needed replacement. A guy from another shop recognized the cones and referred me to Toby and the rest is history. Toby tuned the speakers twice and then said no more. Let me tell you about 5.1! I have enjoy them immensely ever since. God Bless Toby. He was such a great guy."

Roger
08/02/2018, 11:58 AM

"Growing up in Fort Worth Toby brand Subs were very popular and even though I never owned one myself I stopped by the shop once and met Toby. He was very nice cool guy who explained the workings of the products in detail. I'm sorry about his passing, he will always be remembered as a Fort Worth icon!"

Carlos Castellanos
05/26/2015, 02:43 PM

"I'm another of Toby's very satisfied customers and bought both sets from Toby himself. I bought them about 35 years apart, but for some cosmic reason Toby played the very same demo CD for me during both purchases (Steely Dan). I'll remember your work every time I listen to these speaker sets and I'd love to come visit the new store the next time I'm in town."

Bob Breeze
05/26/2015, 02:42 PM

"I bought one of the Low Sheriffs in 2012 when I was a senior in high-school. Car Toys, Best Buy, and several other speaker/car audio shops I went to disregarded me as just another kid looking at speakers- never really taking the time to explain to me what all of the 'numbers' associated with car audio meant. True's shop is the only place I found and could trust to help understand the terms and decide which speaker set up was best for me. I've had the Low Sheriff in my daily driver for the last 3, almost 4 years- STILL LIKE BRAND NEW. No one can believe the sound quality and impact of just one 10 inch speaker. True does an amazing job of guaranteeing a one of a kind buying experience."

Jesse James Smith
02/10/2014, 06:24 PM

"I have purchased Toby Speakers since 1989 and have enjoyed the best kept secret in the industry. Many companies make good and bad speakers and it's hard to know what you're getting. Toby does not make a bad speaker. You will never be disappointed with anything you take home from Toby's."

Installation Specialists of Texas